Division West forms the Virginia National Guard | News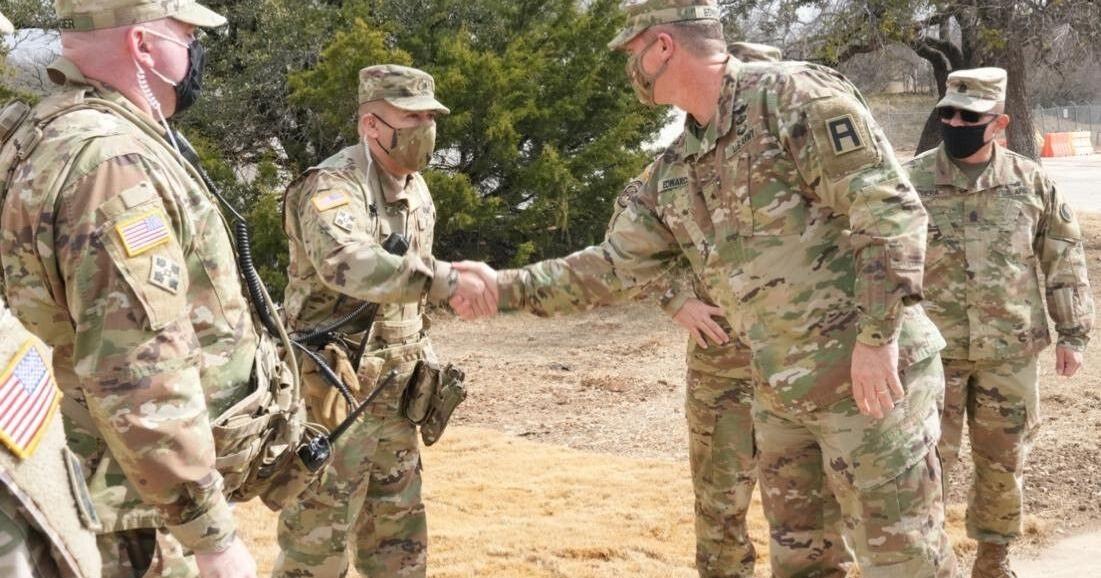 Soldiers and Airmen from the 2nd Battalion, 224th Aviation Regiment, 29th Combat Aviation Brigade, Virginia Army National Guard, successfully completed their mobilization and final readiness checks for their deployment to the Republic of Kosovo.
The unit will serve as the air task force for the NATO-led Kosovo East Force Regional Command, supporting the Staunton-based 116th Infantry Brigade Combat Team Headquarters.
Upon completion of an air operations assessment, Brig. General Joseph Edwards, commanding general of the First Army Division West, visited the aviation battalion at North Fort Hood to thank them for following up on their call to federal active duty.
"KFOR's mission is a historic and multinational partnership. The 2-224th has been called in not only to serve as the next aviation battalion for this mission, but also to represent the United States military alongside our NATO allies," Edwards said. "What you do as soldiers of the Virginia National Guard is hard enough, and our team could not be more proud of the hard work and preparation you have shown while mobilizing here at North Fort Hood. . On behalf of the Airmen of Western Division and the Army, we wish you a successful mission and a safe return from your deployment.
Lt. Col. Matthew Lewis, battalion commander of 2-224th Avn. Regt., discussed their unit's readiness for the year-long mission.
"Our unit was selected based on our organizational readiness and training. We are both honored and thrilled to be part of our nation's continued partnership with KFOR," Lewis said. "We will be part of the larger RC-E lift component that provides air mobility and CASEVAC (casualty evacuation) capability to higher command, allowing freedom of maneuver throughout the region. We feel prepared and ready to execute the mission.
Lewis was pleased with the training facilities at North Fort Hood and the support provided by the First Army spotter, trainer/trainers.
"Mission success for our soldiers would be: one, they went there and made a difference for Kosovo; second, they made a difference for themselves – better physically, spiritually and professionally; and three, they improved the unit," Lewis said. "That's what I want them to come away with at the end of our mission. And, I think it will all become a life experience where they can look back 30 years from now and say, "I'm glad I did that."
SPC. Paul Kelly, a Blackhawk mechanic assigned to the 2-224th, joined the KFOR deployment to begin his aviation career and to honor his late father, Col. Paul Kelly, a distinguished Army airman and former commander of battalion of the 2-224th which was last assigned to Joint Force Headquarters, VAARNG, while serving in Operation Iraqi Freedom.
"I volunteered for this assignment because I wanted experience and I always wanted to get into aviation," he said. "On the civilian side, I have just finished university and intend to take up a full-time position in this unit. I thought this would be the best time for me to come in and really learn my job. I also can't wait to see Kosovo – to see that part of the world. I've never traveled outside of the United States, so this will be a cool experience."
Kelly's father served in the Army National Guard for 25 years and is a Fallen Hero recognized by the National Guard Bureau and the Department of Defense for his honorable service and sacrifice while on a flight mission above Baghdad, Iraq on January 20, 2007.
"It's definitely an honor to be part of the battalion, especially to see the family and friends I grew up with who are still part of this unit and closely tied to it," he said. "I'm very proud to be here and I look forward to working and learning from 2-224 to improve every day."
sergeant. Kayla Jackson, an aviation operations specialist for 2-224th, expressed her appreciation for the mobilization.
"This will be my very first overseas deployment, so I'm very excited, nervous and all of those things," Jackson said. "It has certainly been a whirlwind of experiences complete with training, COVID protocols, safety checks and OC/T assessments, but so far my team and I have been very resilient. I definitely feel ready to go to Kosovo.
Last month's training support for 2-224th Mobilization was provided by 3rd Bn. West Division OC/Ts, 351st Avn. Regt., 166th Avn. comic.
Lt. Col. Curtis Unger, battalion commander of 3-351st TSBN, outlined his unit's responsibilities in the mobilization process.
"Our primary goal with the 2-224th was to develop a strong partnership leading to this mobilization that ultimately led to a highly trained unit," Unger said. "We do this by simulating an operational environment, emphasizing their systems and processes in a way that allows them to see themselves in terms of strengths and weaknesses."
Major Robert Wells, 3-351st TSBN S-3 and OC/T Operations Officer, also observed and coached 2-224th Operations personnel through the mobilization training process.
"OC/T's experience with 2-224th has been both enjoyable and rewarding. The unit was extremely professional, eager to learn and motivated to perform
at a high level of readiness every day," Wells said. "We partnered with the 2-224th earlier in their mobilization process and observed the unit during their last annual training prior to mobilization at Fort Hood.
"Since then, we've seen phenomenal growth in the organization, especially among junior soldiers and those who have recently changed MOS (military occupational skills)," he said.
First Army – Western Division OC/Ts proceeded to support the battalion with a final after action review and confirmed their flight schedules to the KFOR area of ​​operations.