Indonesian Ambassador escorts Paralympic team to Indonesia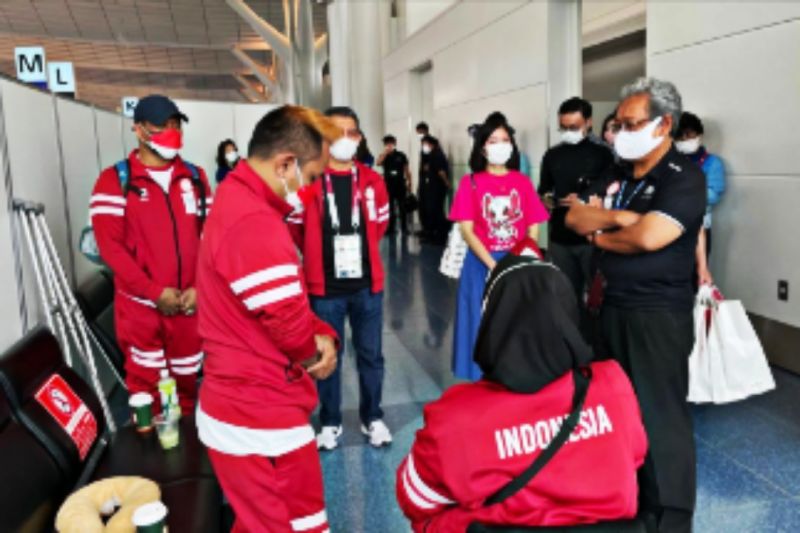 Indonesian Embassy in Tokyo salutes athletes' struggle at Tokyo 2020 Paralympic Games
Jakarta (ANTARA) – Indonesian Ambassador to Japan Heri Akhmadi escorted the Indonesian Paralympic team bound for Indonesia at Tokyo Haneda Airport.
Returning athletes included two para-table tennis athletes David Jacobs and Komet Akbar as well as two para-shooting athletes, Bolo Triyanto and Hanik Puji Hastuti. They were accompanied by the coach of the para table tennis team para Bayu Widhie Hapsara Purba, the coach of the shooting team para Aris Hariyadi and the official Ajeng Widha Paramitha.
On this occasion, Akhmadi praised the hard work and achievements of the athletes at the Tokyo 2020 Paralympic Games.
"The Indonesian Embassy in Tokyo salutes the athletes' struggle at the Tokyo 2020 Paralympic Games," Akhmadi noted in a written statement received by ANTARA here on Saturday.
Related News: Paralympic Athletes Will Receive Same Appreciation: Minister
The Embassy presented a Certificate of Appreciation and two Jakarta-Tokyo multi-trip tickets to bronze medalist David Jacobs, facilitated by Pertamina.
"The Indonesian Embassy in Tokyo, supported by state-owned enterprises (BUMN), distributed tickets to the medal winners, so that they could visit Japan again and become our guests," Akhmadi said, who was accompanied by the head of the social organization and cultural information function Meinarti Fauzie and the immigration attaché of the Indonesian embassy in Tokyo, Marina Magdalena Harahap.
The embassy also handed over souvenirs to the seven members of the Indonesian contingent who returned to their countries of origin.
Meanwhile, Pertamina's Acting Vice President of Stakeholder Relations Rifky Rahman, via a video call, congratulated and congratulated David Jacobs and the Indonesian Paralympic team for their achievements and hard work during the Paralympic Games. .
Related News: David Jacobs Wins Indonesia's Third Medal at Tokyo 2020 Paralympic Games
"Pertamina also praises Olympic and Paralympic medalists. Hopefully this form of appreciation will provide enthusiasm and motivation for David Jacobs and the entire Indonesian Paralympic team," said Rahman.
Jacobs captured a bronze medal in the men's para-table tennis event on Saturday, August 29, 2021.
Jacobs, born in Makassar on June 21, 1977, is one of Indonesia's top para table tennis athletes. The athlete, who has been playing table tennis since the age of 10, has made Indonesia proud at various international championships. He won his first gold medal at the Seattle Pacific Table Tennis Club (SEATTA) Games in Singapore in 2001 as well as bronze medals at the London 2012 Paralympic Games and the Tokyo 2020 Paralympic Games.
Related News: Flash floods destroy 20 houses in Luda village in Riau
Related News: Indonesia and US Air Force Conduct Exercise for Disaster Response Skills