Kargil Vijay Diwas Marked, Army Commander Reaches Out To Veterans And Families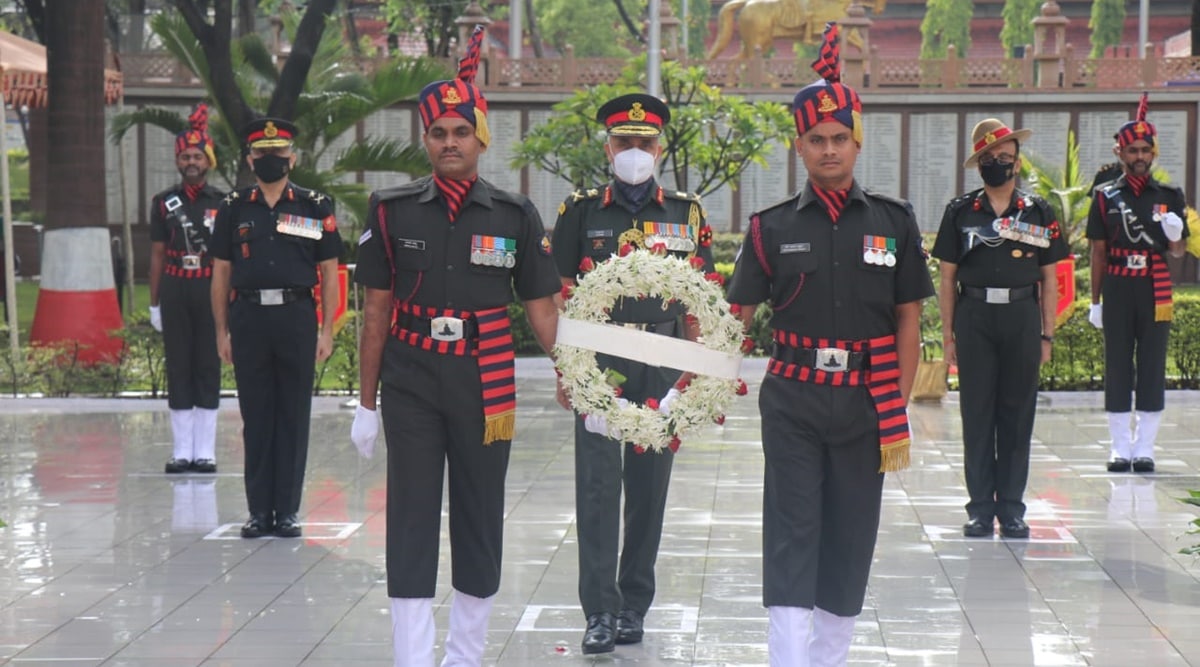 The 22nd Kargil Vijay Diwas was commemorated on Monday at the Pune War Memorial with a wreath laying ceremony in the presence of a limited number of military officials and personnel and Kargil veterans, while ensuring all precautions linked to Covid-19.
On this occasion, the Commander of the Southern Army, Lt. Gen. JS Nain, contacted the veterans and their families to express their gratitude on behalf of the Southern Command.
To honor the martyrs, a wreath in the name of all ranks of the Southern Command was laid at the War Memorial by Lieutenant-General JS Nain, General Officer Commanding-in-Chief of the Southern Command. Major General Hukkur AK (retired), one of Pune's oldest veterans, also laid a wreath and paid tribute to Kargil's war heroes.
A week-long celebration and activities were held at all military stations in the areas under the Southern Command, during which the Bravery Award winners, veterans and Veer Naaris were congratulated.
Unlike the annual ceremony, which is attended by large numbers of serving and retired military personnel, civilian dignitaries and school children, this year's ceremony took place amid Covid-19 precautions. Similar restrictions were also in place for last year's commemorations.
Kargil Vijay Diwas is celebrated on July 26 each year as a tribute to the bravery and bravery of military personnel who fought on the world's most inhospitable terrain in the Kargil-Drass sector region of Ladakh. The Kargil War, also known as Operation Vijay, took place at an altitude of about 16,000 feet, during which 1,042 Pakistani soldiers were killed and 527 Indian soldiers were martyred.
In his message to veterans and their families, Lt. Gen. Nain said: "On the occasion of Kargil Vijay Diwas 22nd birthday, I express my gratitude to all the valiant officers, junior officers and other ranks of the Indian army who have been exemplary. courage, the utmost professionalism, bravery and sacrifice during the Kargil War. I also pay tribute to all the brave dead who made the supreme sacrifice in fighting and ensuring the territorial integrity of our great nation. They are all role models for present and future generations to come. The nation will forever be indebted to them, Veer Naaris and their children for their sacrifice. We express our gratitude to them on this solemn occasion. I urge the service to re-dedicate itself to the ideals of our grand army on this pious occasion. May the victory always be yours! Best wishes."
A press release issued by Southern Command quoted the army commander as saying, "The veterans of Kargil are an inspiration to all of us in the military and the nation. Their supreme sacrifice and service can never be forgotten.
The press releases added: "Lieutenant-General Nain congratulated the veterans at the National War Memorial. During his interaction, he assured all veterans that the Indian Army is moving very strongly in the right directions they have set out and that it is absolutely committed and ready for any eventuality. "