Kentucky National Guard deploys hundreds of troops to help tornado devastation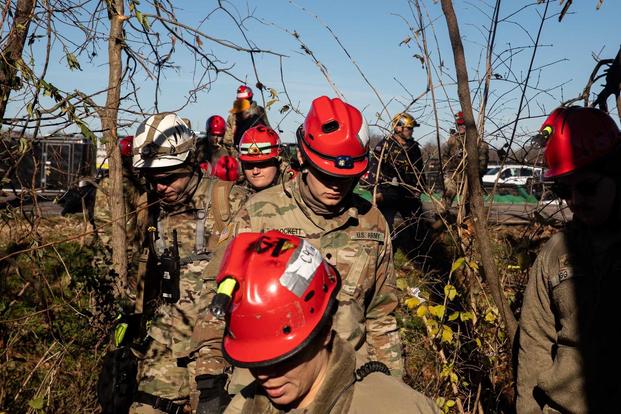 More than 300 Kentucky National Guard soldiers have been deployed to communities devastated by weekend tornadoes that killed at least 80 people in the state, according to the Pentagon.
Members of the guard perform law enforcement duties, clean up debris, and support recovery efforts. They are joined by the US Army Corps of Engineers, which is tasked with setting up emergency power and returning essential utilities and facilities to service.
State and federal authorities were still investigating the extensive damage and looking for missing people Monday after tornadoes swept through Kentucky and other states, including Mississippi, Tennessee, Illinois and Arkansas on Friday and Saturday.
Read more : As the US and China view each other with suspicion, Taiwan could be the flashpoint
None is worse than Kentucky, where Gov. Andy Beshear requested an emergency disaster declaration, which was granted by President Joe Biden on Saturday. The director of the Federal Emergency Management Agency and the head of the Department of Homeland Security visited the state on Sunday to assess the damage.
Pentagon spokesman John Kirby said the Kentucky Guard may be the only military deployment. "We do not anticipate any activations from other states regarding this particular national disaster," he said on Monday.
The Kentucky National Guard has called more than 300 personnel, including 81 in law enforcement, 80 in recovery support and 44 in debris cleanup, Kirby said.
The Corps of Engineers has been given two missions by FEMA. One includes debris removal, support to critical public facilities and infrastructure assessment, as well as engineering and public works.
A second mission is to "mobilize a temporary energy planning and response team from the 249th Engineer Battalion and other subject matter experts to assist with assessments and installation of the generator staging. Kirby said.
Fort Campbell, Ky., Was set up as an emergency staging area for the Corps of Engineers, search and rescue teams, and others. "Fifty-two generators, 30,000 meals, 45,000 liters of water, cots, blankets, infant kits and medical equipment and supplies" were moved through the military base, according to FEMA.
– Travis Tritten can be contacted at [email protected] Follow him on twitter @Travis_Tritten.
Related: National Guard goes house to house to check on survivors of tornadoes that killed dozens
View full article
© Copyright 2021 Military.com. All rights reserved. This material may not be published, broadcast, rewritten or redistributed.