Memorial ceremony in Beirut to honor fallen Nepalese peacekeepers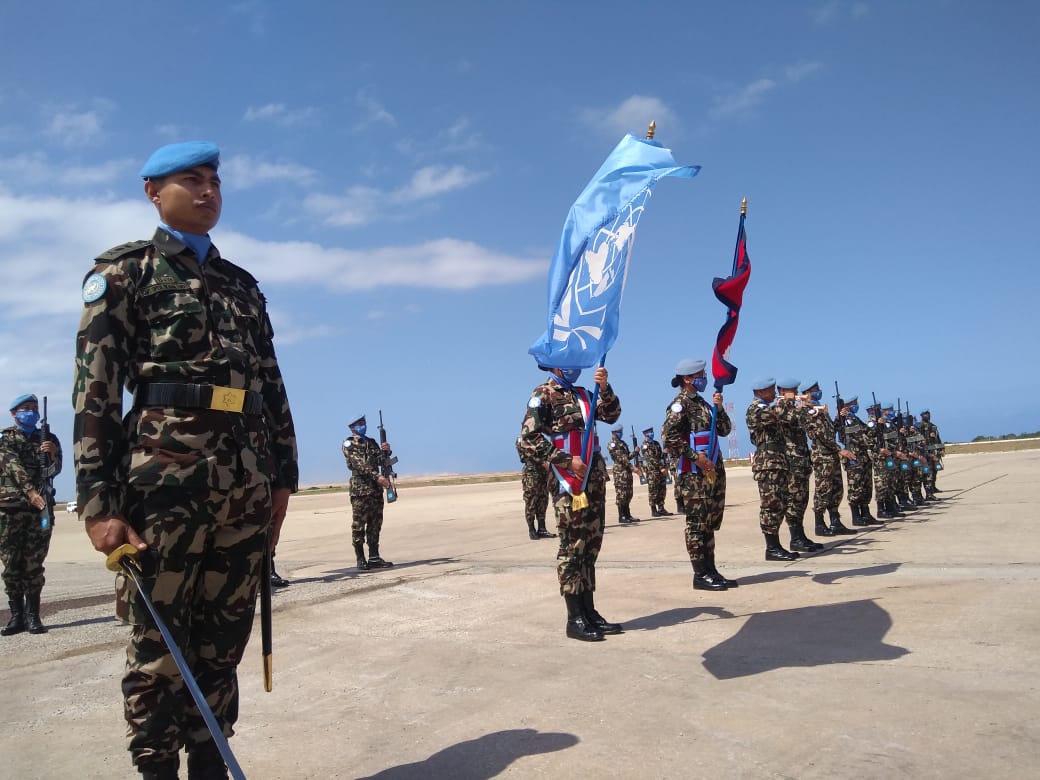 UNIFIL Chief of Mission and Force Commander Major General Stefano Del Col today led a commemorative ceremony at Rafic Hariri International Airport in Beirut, paying tribute to a Nepalese peacekeeper who recently died while 'he served for peace in southern Lebanon.
UNIFIL chief extends his deepest condolences to the family and friends of Nepalese enlisted non-combatant member (NCE) Pitambar Thapa, 36, who died on May 4, 2021 following cardiac arrest . After the ceremony in Beirut, his body was airlifted to Nepal.
"The UNIFIL community is saddened by this unfortunate loss and we would like to express our sincere gratitude to his family and country, for giving us the privilege of serving with him, and for their valuable contribution to our common effort," said the major. General Del Col said at the ceremony, which was attended by colleagues from UNIFIL, members of the Lebanese Armed Forces (LAF) and the Honorary Consul General of Nepal in Lebanon, Mr. El Sheikh Mohamed Ghouzayel.
He also praised Nepal's "enormous" contribution to world peace, participating in UN peace operations for more than half a century.
One of the first contributors of troops to UNIFIL since the creation of the Mission in 1978, Nepal currently has more than 870 peacekeepers serving in southern Lebanon. To date, more than 50,000 Nepalese peacekeepers have served in UNIFIL, while 31 of them have made the ultimate sacrifice in the service of peace.
"As we persevere in our commitment to maintain calm and stability in the region, I would like to invite everyone to continue to work with renewed determination, loyalty and enthusiasm, charting the essential path towards lasting peace for Lebanon, "said Major General Del Col. "We owe it to ourselves, to our fallen comrades and to Pitambar."
On this occasion, the Force Commander of UNIFIL and the representative of the Commander General of the FAL Joseph Aoun, Brigadier General Nahi Jobran, posthumously awarded NCE Thapa the United Nations and FAL medals for his dedicated service. for peace and stability in southern Lebanon.
NCE Thapa, originally from the middle hills of Nepal and arrived in southern Lebanon on January 28, 2021, was a heavy truck operator for the Nepalese contingent. He is survived by his wife, mother and daughter.
The commander of the Nepalese battalion (NEPBATT), Lieutenant-Colonel Rajib Thapa, who played badminton with the deceased, remembers NCE Thapa "as one of the happiest and most decent peacekeepers".
He said NCE Thapa was a "great asset" to the Nepalese contingent as well as to UNIFIL, and that his untimely demise was "an irreparable loss".
"He was NEPBATT's foremost badminton player and he will always be missed on the badminton court," said Lt. Col. Thapa.
(UN photos / Warrant Officer Ramesh Karki)