Memorial ceremony in memory of deceased Vietnamese peacekeepers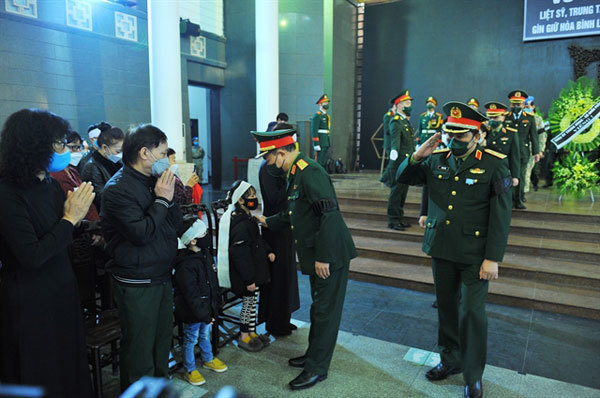 A memorial service was held for Lt. Col. Do Anh, who died while on a UN peacekeeping mission, on Wednesday at the National Funeral Hall in Hanoi.
A memorial service was held for Lt. Col. Do Anh, who died on Wednesday while on a UN peacekeeping mission. — Photo VNA/VNS
He was laid to rest at the Nhon Martyrs' Cemetery in the capital's Bac Tu Liem district on the same day.
Major General Hoang Kim Phung, Director of Vietnam's Department of Peacekeeping Operations, said: "Lieutenant Colonel Do Anh is a young officer who died during the mission. His sacrifice was highly appreciated by the United Nations. His passing is a great loss, especially when Vietnam deploys more peacekeeping missions.
"This is the biggest loss in the last eight years since we participated in UN peacekeeping missions. It is a loss for the army, the Department of Peacekeeping Operations of Vietnam and its family as well as for the whole nation because we have proud citizens who participate in peacekeeping missions with great values. human and humanitarian.
The Central African Republic where Lieutenant-Colonel Do Anh was based is an area with several difficulties on climate, weather and the generalized pandemic.
"There was no fighting in the region because there had been peace agreements. However, petty animosities and conflicts and even armed conflicts persisted. Lt. Col. Do Anh died while on a UN peacekeeping mission, not combat operations," he said.
Anh was born in 1983 in the northern province of Nam Dinh and lived in Bac Tu Liem, Hanoi, and was sent to the Central African Republic to work as a military observer in 2021.
He died on 6 January 2022 (local time) at Nakasero No. 3 Field Hospital, Kampala, Uganda.
On January 8, the United Nations Multidimensional Integrated Stabilization Mission in the Central African Republic coordinated with the Vietnamese Ministry of National Defense to hold an online memorial service for Anh.
Later, on January 15, the Vietnamese Department of Peacekeeping Operations held a ceremony to receive his remains from the UN.
With his dedication to the revolutionary cause of the Party, the people and the army and to the UN peacekeeping mission, he was recognized as a martyr and awarded a national certificate of merit.
He also received the Third Class "Homeland Defense Order" and the First Class Glorious Fighter Medal and was promoted from Major to Lieutenant Colonel.
Jean Pierre Lacroix, UN Under-Secretary-General for Peace Operations, sent a letter of condolence to the Permanent Representative of Việt Nam to the UN, Dang Dinh Quy, expressing his appreciation for the great contributions of Lt. Col. Do Anh to the maintenance of peace. mission in the Central African Republic.
Writing in the funeral guestbook, UNDP Resident Representative Caitlin Wiesen noted that her aspiration to contribute to world peace by participating in peacekeeping missions will be remembered.
Group Captain Bea Walcot, the British Defense Attaché in Vietnam, shared condolences for the nation who lost a soldier who spent his life serving the nation.
Senior Vietnamese officials including Lt. Gen. Hoang Xuan Chien, Vice Foreign Minister Dang Hoang Giang and Vice Minister of Defense and Lt. Gen. Phung Si Tan, Commander of Military Region 2 and Ambassador Nguyen Phuong Nga, chairman of the Vietnam Friendship Union Organizations also attended the funeral.
Vietnam has sent 250 military and personnel to UN peacekeeping missions at UN Headquarters (New York, USA) and other missions in South Sudan and Central African Republic .
In terms of individual operation officers, Vietnam sent 61 duty tours of military officers serving as staff officers, military observers and liaison officers. The country has also dispatched field hospitals involving 189 medical personnel.
The country is also preparing to send 191 officers to the United Nations Interim Security Force for Abyei in the first quarter of this year.
Source: Vietnam News
UN peacekeeping officer in Vietnam dies on duty
Vietnam's Department of Peacekeeping Operations will hold a memorial service on Jan. 19 for Lt. Col. Do Anh, who died while on a UN peacekeeping mission.