New Chief Warrant Officer appointed for the Vermont National Guard | Community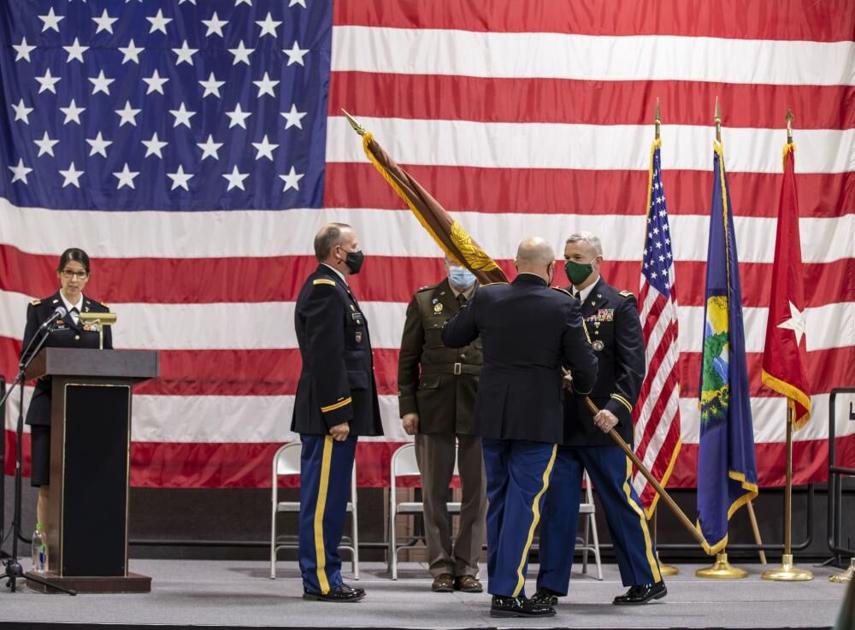 Chief Warrant Officer 5 Scott Beaulieu succeeded Chief Warrant Officer 5 James Woodworth as the Vermont National Guard Command Chief Warrant Officer in a change of responsibility ceremony at Joint Force Headquarters by November 7, 2021.
The Change of Responsibility Ceremony serves a dual function of honoring the Departing Command Chief Warrant Officer and formally acknowledging the transfer of responsibility as the Vermont National Guard Senior Warrant Officer to the Chief Warrant Officer of the incoming command.
When he took on his new responsibilities as Command Chief Warrant Officer, Beaulieu said: "I feel honored to have been chosen by the Adjutant General to perform the duties and responsibilities that come with the position, I believe that the experiences and training that the US military has given will help recruit for our vacant warrant officer positions for the army missions of tomorrow.
As the Senior Adjutant of the Vermont Guard, the Command Chief Warrant Officer advises the Adjutant General, Army Deputy Adjutant General and their staff on all matters relating to policies, programs and actions affecting affect the warrant officer cohort, including professional development, promotions, assignments, incentives, morale, discipline, performance, strength and recruiting programs.
Experts and trainers highly specialized in their military profession, "warrant officers are the custodians of the knowledge required for the profession they choose. They are the custodians of technical and tactical skills and hold the keys to unlocking this knowledge in order to train, mentor and lead soldiers at all levels, "said Beaulieu.
Beaulieu enlisted as a private in the United States Army in 1986, serving as an attack helicopter weapon systems repairer and later as an air traffic controller during Desert Shield / Desert Storm. In 1997, he attended the Officer Candidate School and was appointed Human Resources Warrant Officer. In 2010, Beaulieu deployed to Afghanistan with the 86th Infantry Brigade Combat Team (Mountain) as Deputy Director of Personnel, providing executive administrative support to more than 1,500 soldiers. Beaulieu's military awards and decorations include a Bronze Star medal.
Beaulieu was previously posted to the Vermont Recruiting and Retention Battalion as a recruiting warrant officer and resource officer. Beaulieu has extensive military training, including the Primary Leadership Development Course, the Basic NCO Course, the Army Mountain War School (winter and summer phases), the Officer Candidate School, Basic Human Resources Warrant Officer Course, Advanced Warrant Officer Human Resources Course, Warrant Officer Intermediate Leadership Training Course for Officers and Senior Service Training Course for Officers adjutants.
Beaulieu's civil education consists of an associate of science degree in computer information systems from Champlain College. He graduated in 1986 from the Bellows Free Academy in St Albans Vermont where he grew up.
While Beaulieu began his military career in aviation, Woodworth began his in the silent service of the US Navy as a submariner, particularly as a nuclear missile technician assigned to the submarine. nuclear sailor USS Ulysses S. Grant SSBN-631. After completing six deterrence patrols, he joined the Vermont Army National Guard.
In 1995, Woodworth attended Warrant Officer School as a General Supply Technician Adjutant and was posted to Headquarters Company, 1-103rd Aviation Battalion. In 2000, Woodworth switched branches to the Signal Corps and was posted to Joint Force Headquarters as the Computer Network Defense Team Leader and Senior Network Operations Technician. During this posting, he deployed in 2008 with Task Force Stone as the Chief Information Officer at Camp Stone, Herat, Afghanistan. A full-time member of the VTARNG Technician Strength since 1991, Woodworth was selected and posted as the State Command Chief Warrant Officer on April 1, 2018. His numerous military awards and decorations include a Silver Star and three bronze stars.