Pennsylvania Air National Guard commander returns to duty after plane crash that killed his daughter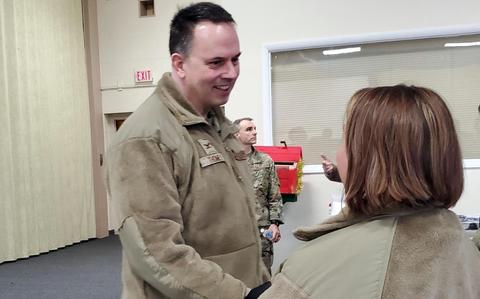 The commander of an Air National Guard wing in Pennsylvania has returned to duty five months after surviving a private plane crash that killed his daughter in South Carolina.
Col. Deane Thomey, of Arlington, Va., returned Wednesday to Biddle Air National Guard Base and the 111th Attack Wing in Horsham, Pa., about 17 miles north of Philadelphia.
He was seriously injured Oct. 22 when the single-engine Piper PA-32R-300 he was flying suffered an engine failure near Walterboro, SC, according to the preliminary accident report and the Pennsylvania National Guard. His daughter, Madeline Thomey, 24, also of Arlington, died.
"We are all heartbroken by the loss of Madeline," Colonel Rebecca Gray, the wing's vice commander, said in a press release posted Thursday on the wing's website. "Col. Thomey made a remarkable recovery that made his return possible. The entire 111th Attack Wing family is grateful to have our Wing Commander back at the helm to provide Pennsylvania and our nation with a strong ready – ready for whatever challenges lie ahead."
Thomey was treated for several weeks in the intensive care unit at the Medical University of South Carolina in Charleston, according to the Guard. He was transferred in November to a medical facility near his home for treatment and aftercare. Thomey was treated for burns and other injuries after the crash and eventually returned home on Dec. 16, according to a fundraising page on the Give InKind website.
The Piper struck a 70-foot-tall pine tree as Thomey descended toward Lowcountry Regional Airport, according to the National Transportation Safety Board report. The impact separated the two wings and the rear stabilizer, and the aircraft left a 100-meter-long trail of debris through a forest.
Thomey took off from Fredericksburg, Va., just before 1 p.m. on a flight plan to Miami, the report said. About three hours later, he diverted to Walterboro to refuel and, en route, declared an in-flight emergency due to an "overdue engine," according to the NTSB. A controller advised Thomey to keep heading for the airport, seven miles away.
Witnesses described the plane making a left turn toward an open field, its engine making a noise like an all-terrain vehicle, when they heard a loud "pop" and the noise stopped, according to the preliminary report. A fire destroyed the plane after the crash about three miles from the airport, according to local reports.
Thomey assumed command of the 111th in April 2021, according to his biography on the wing's website. His predecessor, Colonel William Griffin, retired on schedule following a report by the Philadelphia Inquirer in July 2020 that documented a "brotherhood atmosphere" of sexual harassment and discrimination at the wing.
The wing flies MQ-9 Reaper drones.
Thomey, a native of Sherwood, Arkansas, enlisted in the Arkansas Air National Guard in 1988 and graduated from the Academy of Military Sciences. He is also an Operation Iraqi Freedom Veteran with 73 combat flying hours.
He has over 1,800 military flight hours in aircraft types in addition to the Reaper, trainers to the C-130 Hercules transport aircraft, A-10 Thunderbolt attack aircraft and F-16 Fighting Falcon, according to his Air Force biography.