Peter Njiru: Inside the Blossoming Career of the New Army Commander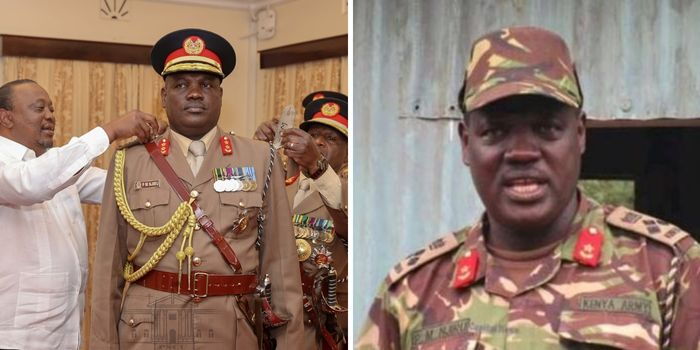 Lieutenant General Peter Mbogo Njiru was unveiled as the new Army Commander at an event on Monday August 8 at the Ministry of Defense in Hurlingham, Nairobi.
Njiru assumed the role after being nominated by President Uhuru Kenyatta, ending Walter Koipaton's four-year term.
His career in the military began on June 24, 1985, when he enlisted in the Kenya Defense Force as an officer cadet. A year later, Njiru was made a second lieutenant.
The commissioning marked his upward trajectory through the army ranks. Njiru was assigned to the 77 Arty as a troop commander and was later appointed commander of the same unit.
Army Commander Peter Njiru and Kenya's Defense Chief Robert Kibochi" typeof="foaf:Image"/>
President Uhuru Kenyatta, Army Commander Peter Njiru and Kenya's Defense Chief Robert Kibochi
PSCU
During his KDF career, Njiru held a series of commands, including being responsible for operations, plans, doctrine, and training other military officers.
The highlight of his career was when he served as aide-de-camp to President Uhuru Kenyatta.
Prior to serving as the head of state, Njiru held many positions including as an administration officer, warrant officer, battery captain and air defense wing instructor.
His achievements cross the border. Njiru served in the United Nations Mission in Sudan (UNMISS) where he was the Kenyan Battalion Commander and Staff Officer of the United Nations Mission in Ethiopia and Eritrea (UNMEE).
Due to his illustrious career, President Uhuru Kenyatta awarded Njiru the Chief of the Burning Spear (CBS) for his outstanding service to the nation.
Njiru is also considered a think tank in the military as he holds an MA in International Security and Strategy from Kings College London.
During the promotions in the army announced by the Head of State, his aide-de-camp Timothy Stelu Lekolool, was promoted to brigadier.
Others who have been raised in the Kenyan military include Brigadier David Kimaiyo Chemwaina Tarus who is now a Major General and will serve as the General Officer Commanding Western Command.
Uhuru promoted Brigadier Juma Shee Mwinyikai to Major General and appointed him General Officer Commanding Eastern Command.
Brigadier Fredrick Leuria – Promoted to Major General and appointed Deputy Chief of Defense Force in charge of Operations, Plans, Doctrine and Training.
Peter Mbogo Njiru, former aide-de-camp (ADC) to President Uhuru Kenyatta.
Case