Police pay tribute to new Army Commander at Police HQ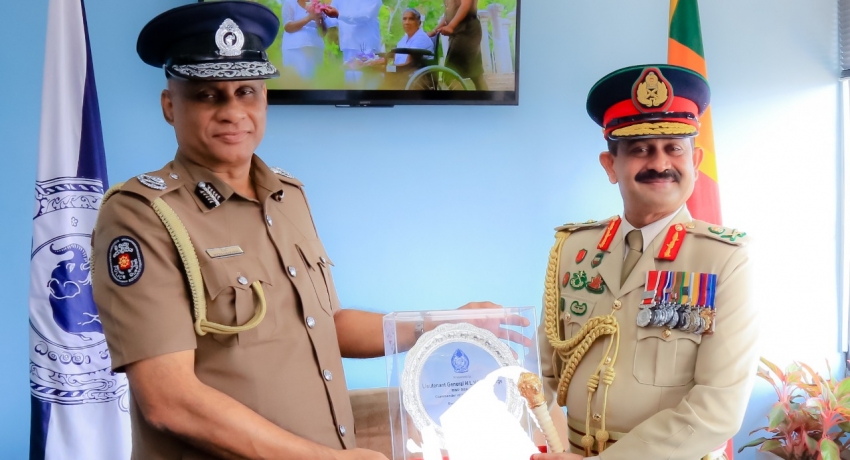 COLOMBO (News 1st); An honor guard, presented by a combined team of police and STF officers with female police officers at police headquarters, greeted Army Commander Lt. Gen. Vikum Liyanage on his first visit to courtesy at police headquarters this morning (10) after taking charge of his new office at army headquarters.
Deputy Inspector General of Police Samantha de Silva at the entrance to the headquarters greeted the new army chief, Lt. Gen. Vikum Liyanage on his arrival and invited him to receive the salute in the honor guard, presented in his honor.
Lt. Gen. Vikum Liyanage, at the request of the parade commander, then received the salute from the special dais after reviewing it. Inspector General of Police CD Wickramarathne after a few minutes warmly received the chief guest of the day at police headquarters and escorted him to the IGP office.
At the IGP office, the two discussed matters of mutual interest and concern as well as other general matters of importance. Several senior deputy inspectors general and senior officers were associated at the courtesy meeting. At the end of the cordial exchange of views, the IGP sent its compliments and best wishes to the office of the new Army Commander and wished him good luck.
The prevailing good relations were further symbolized by the exchange of memories by Mr. CD Wickramarathne and Lt. Gen. Vikum Liyanage, the chief guest of the day at Police Headquarters.
Major General Chandana Wickramasinghe, the military secretary, was also associated with the day's program at police headquarters.
Source: Sri Lankan Army