Watch Now: Honor Guard Role 'Primary' For Bloomington-Normal Veterans | Local News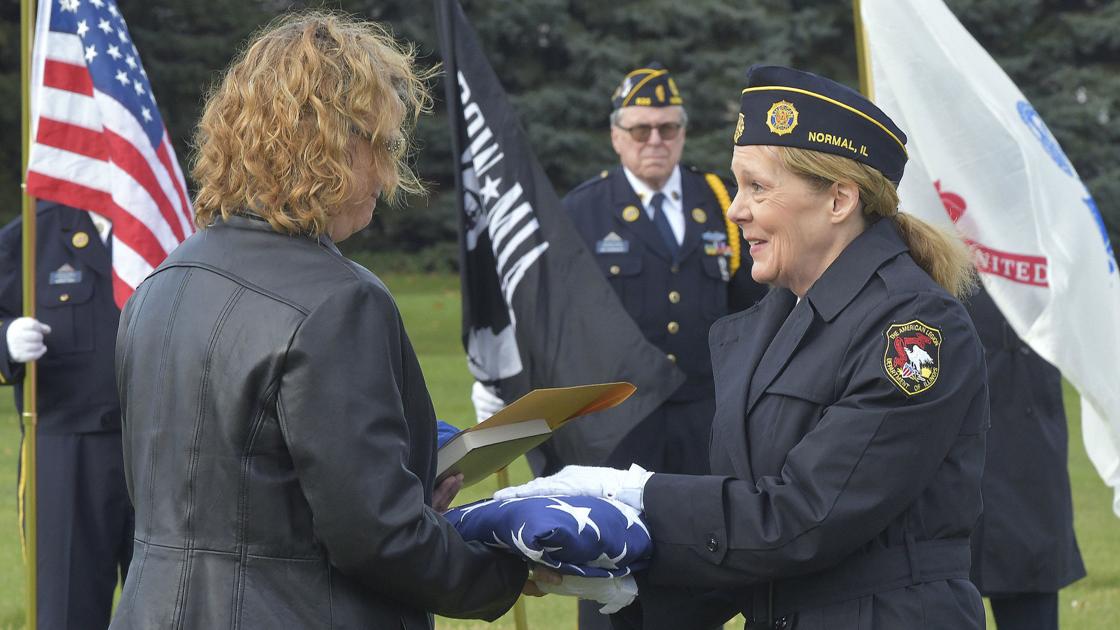 BLOOMINGTON – At the 11th hour of the 11th day of the 11th month of the year, members of the Bloomington-Normal American Legion Honor Guard fired their 11th shot with an M1 rifle to honor the armistice.
The recent Honor Guard Veterans Day ceremony at the McLean County History Museum was held between five funeral ceremonies for area veterans. So far this year, the Bloomington-Normal Honor Guard has performed military rites for at least 95 military funerals.
One of the recent funerals was that of WWII veteran Francis A. Nolan, who flew as a tail gunner master sergeant in B-25 and B-26 planes over the Mediterranean Sea and other parts of Europe.
He had to complete 25 missions to qualify to return home, but Nolan completed 66 missions, said Butch Ekstam, general manager of the Bloomington-Normal American Legion Honor Guard Post 635.
"He's one of the most special," Ekstam said, adding that Nolan's funeral also featured a three-plane Piper cub aircraft flyover.
"It was probably the quintessential of an event," added Ekstam.
Watch now: Bloomington vet shares his World War II Guam experience
While the American Legion Honor Guard hosts many events throughout the year, military funerals are paramount, members agreed.
"There are still times when you see a grandson or a granddaughter there, it will hurt your heart just to see them there and have your eyes wide open to what is going on" said Chuck Downs, who has been with the local honor guard for about nine years.
The ceremony is a way to close the family, to "give a good cry" and to ensure that the veteran "will never be forgotten," Ekstam said.
The members of the guard of honor alternate according to the roles during the funeral.
Sometimes Jill Henry, who has been in the Bloomington-Normal Honor Guard since 2017 and joined the American Legion several years previously, shoots a rifle, holds the American flag, or folds the flag to present it to members of the family.
On November 8, Henry helped fold the flag and then presented it to Jane Widmer, daughter of Korean War veteran Richard Brinson, during her funeral at East Lawn Memorial Gardens in Bloomington.
Henry recently took a trip for the Female Veterans Honor Flight to Washington, DC, which included trips to the Women's Military Memorial, the Tomb of the Unknown Soldier, and the Vietnam Women's Memorial.
She spent 20 years in the army from 1973 to 1993, mainly as a nurse anesthetist lieutenant colonel in the army. His final years included deploying to Desert Storm and teaching at a military anesthesia school in El Paso, Texas.
Downs served for approximately five years on a diesel-electric submarine from 1967 to 1971 in Charleston, South Carolina, with frequent deployments to Guantanamo Bay, Cuba.
He worked as a mechanic on submarines, taking care and overseeing all the machines.
Downs is now primarily in charge of cleaning and maintaining weapons used by the Honor Guard.
He said the Bloomington-Normal honor guard has "really grown" lately "because Butch is really proactive on a lot of things," noting the recently added flyovers at some ceremonies and always having enough members to attend. every event, including bagpipes and bugles.
The Bloomington-Normal Honor Guard gathered in October for an Honor Guard Dinner.
While some members see each other often at events throughout the year, the October dinner, which included spouses and family, was the group's first banquet dinner in about three years.
"The most important thing that we insist on and do continuously is to thank the spouses, the people behind the scenes," Ekstam said. "As in the wars – WWII, the ladies usually stayed here, looking after babies and families, moms and dads… looking after everything and worrying every day whether their person would come home. at home."
Photos: Bloomington Veterans Day celebration calls for understanding
111121-blm-loc-2veteransday
DOWNTOWN CEREMONY PAYS TRIBUTE TO VETERANS
111121-blm-loc-3veteransday
111121-blm-loc-4veteransday
111121-blm-loc-5veteransday
111121-blm-loc-6veteransday
111121-blm-loc-7veteransday
111121-blm-loc-8veteransday
111121-blm-loc-9veteransday
111121-blm-loc-10veteransday
111121-blm-loc-11veteransday
Contact Kade Heather at 309-820-3256. Follow him on Twitter: @kadeheather